---
ENFRANCHISEMENT
BUYING OR SELLING A FREEHOLD TO LEASEHOLDERS
---
WHY BUYING A FREEHOLD MAKES SENSE
Buying your freehold can protect and enhance your property value, giving you control

As your lease gets shorter, the value normally falls

Improve market appeal by offering a 'Share of Freehold'

Reduce your ground rent to £zero

Take control of maintenance and service charge accounts

Unlock development potential

Potentially acquire flats owned by the Freeholder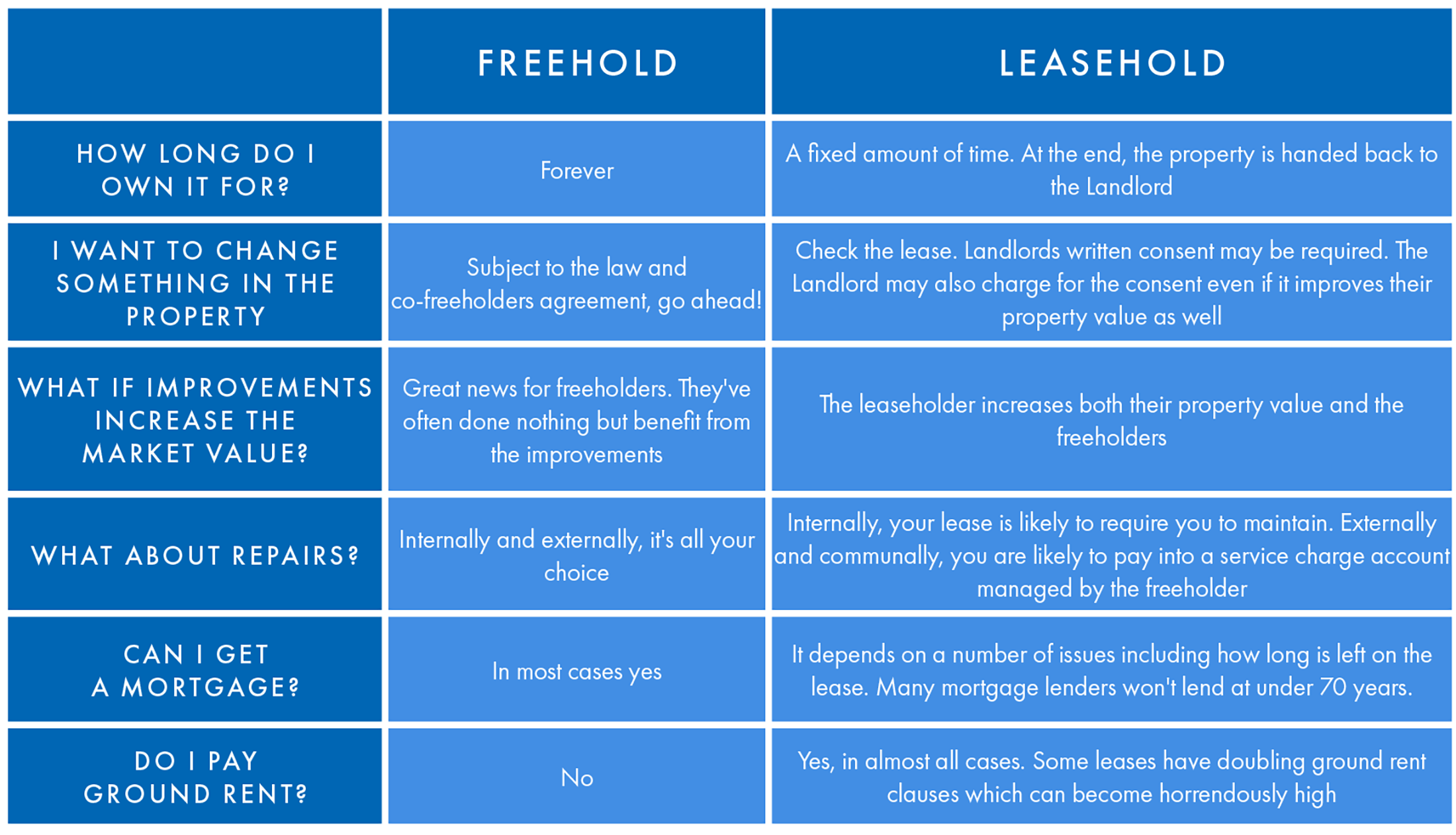 The process and what to expect
OUR GUIDE TO COLLECTIVE ENFRANCHISEMENT

- The building must contain at least two flats.
- At least two-thirds of the flats must be owned by qualifying tenants
- At least 50% of the flats in the building, who are qualifying tenants, must participate. In buildings with two flats both must participate.
- If more than 25% of the internal floor area of the building is non-residential the building will not qualify.

If landlord cannot be located or does not reply to Section 13 notice by the date specified, leaseholder applies to court for a vesting order.
---
SECTION 13 NOTICE UNDER THE LEASEHOLD REFOrm housing and urban development act 1993
---
- Leaseholder's solicitor serves notice including a plan specifying proposed acquisition terms.
- Suggested premium payable is informed by Chartered Surveyors valuation.
- The notice must consider appurtenant land

SECTION 21 NOTICE UNDER THE LEASEHOLD REFORM housing and urban development act 1993
---
- Freeholder serves counter notice either accepting or giving reasons why they do not accept.
- If applicable the landlord can propose leaseback terms.
- Suggested premium payable is informed by the Landlord's Chartered Surveyor's valuation.
- Leaseholder required to pay Landlord's reasonable valuation fee.

Negotiations + Tribunal reference
---
- Negotiations ensue with each side paying their own costs.
- Between 2-6 months of the Section 21, either side can apply to the First Tier Tribunal for a binding judgement.
Nearly all cases are settled by agreement.

Agreement or determination
---
- Once agreement is reached, Solicitors complete the transfer. The leaseholders pay the reasonable cost for the Landlords as well as their own.
OR
- If the Tribunal determines the terms, it gives directions.
Freeholders who choose to sell

NOTICES UNDER SECTION 5 OF THE LANDLORD & TENANT ACT 1987
---
A landlord (typically a freeholder) may choose to sell their interest, independent of any Collective Enfranchisement application. To do so, they must first offer the Right of First Refusal to qualifying tenants (typically leaseholders). They must only do so if at least 50% of the property is residential and at least 50% is owned by qualifying tenants of two or more flats. Notices must be served on at least 90% of the qualifying tenants.
There are exceptions including where the freeholder is a Council, Housing Association or where they have lived in the property for the last year. Similarly, leaseholders who own at least three of the flats do not qualify. There are five forms of Section 5 notice, the two most common of which are detailed below.

SECTION 5A:
SIMPLE SALE BY CONTRACT
---
The landlord (typically a freeholder) sets a price which the tenants may choose to accept or not. For tenants to accept the offer to sell to them, at least 50% of those who qualify must write to the freeholder to confirm their intention and within a further two months to then nominate a purchaser. Often the purchaser will be a management company set up by the tenants.
The interest cannot be sold at a lower price or on different terms within 1 year.
---

SECTION 5B:
SALE BY PUBLIC AUCTION
---
The Landlord must notify qualifying tenants of the auction date 4-6 months prior. The notice must provide a timescale within which tenants may express an interest in taking up the right of pre-emption. Following doing so, tenants then have a further 28 days to nominate a purchaser. The price is set by the highest bid at auction which the leaseholders then decide whether to take up or not.
If the reserve is too high, both the tenants and other bidders are deterred. If it is too low, tenants may be able to acquire at below Market Value, with other bidders perhaps unlikely to proceed.

Enfranchisement for Houses
---
Most leaseholders of houses have the right to buy the freehold. The law has changed over the years, complicating the valuation process. At Websters, we often find that some leaseholders are pleasantly surprised how little buying their freehold costs whilst others expected it to cost less. The price payable depends on a number of issues such as ground rent, term of lease remaining, potential marriage value and principally, what basis of Valuation the law requires to be used.

Which Valuation basis applies?
---
When the Leasehold Reform Act 1967 came into force, it was designed for low Value houses and created what is now known as the 'Original Valuation basis'. A subsequent change in the law created the 'Special Valuation basis' for higher value properties. Despite the names, some houses, even in London, fall under the Original Valuation basis.

---
'Low value' houses are assessed on the assumption that at the end of the lease, the land reverts to the freeholder who could then charge a modern ground rent but the house does not.
Marriage Value does not apply

---
'High value' houses are assessed on the assumption that at the end of the lease, the land and the house reverts to the freeholder.
Marriage Value does apply
---
Buying Your freehold: FAQs
We regularly receive questions and are happy to answer them. Here is some of the most frequent advice we provide
Is collective enfranchisement similar to an individual lease extension?
There are some similarities but they are different and are controlled by different law.
---
We can provide a comprehensive valuation report identifying the cost. We can also provide a breakdown per flat so each leaseholder knows what their portion of the cost is.
---
What about leaseholders who do not participate?
Whoever buys the freehold will have the right to receive ground rent from the non participants and potentially a further premium if they want to extend their lease in the future.
How is the cost split between leaseholders?
The total compensation due to the Landlord (e.g. a freeholder) includes different amounts for different flats based on issues such as lease lengths and property size. We can identify a proportionate split but leaseholders can of course decide something else if they wish.
---
What about leaseholders who have already extended their leases?
The cost for them to join in with buying the freehold is normally very modest. By doing so, they receive benefits such as unlocking any development value, controlling service charges and having a more marketable interest if they choose to sell in the future.
---
Can any leaseholder in the building join in?
In order to purchase the freehold, at least half of the leaseholders must agree. The more who join in, the lower the average cost per leaseholder is. If someone misses out now, it may be very difficult for them to join in after the transaction completes. Ideally, each leaseholder would join in at the start but they can decide to join in part way through the process, thereby reducing the cost to other leaseholders.
---
If WE decide not to proceed, can WE EXTEND
OUR leaseS?
Yes, absolutely and we'd be delighted to help you to do so. In fact, our valuation report also provides estimates of what it would cost for individual lease extensions.
---
---
and Administrative Restoration



Landlord's company in receivership.


---
If the Landlord cannot be located after reasonable efforts having first been made, the premium can be set through application to the County Court for a vesting order. We can provide the required Expert Witness report advising on a suitable premium to the First Tier Tribunal.

MY LANDLORD'S COMPANY HAS BEEN STRUCK OFF
---
Assets are likely to have become 'bona vacantia', that is they have no owner so become vested by the Crown. In our experience, the Treasury Solicitor, on behalf of the crown, may be willing to extend the lease or sell the freehold by agreement. This is all done by negotiation.

I OWN THE COMPANY THAT HAS BEEN STRUCK OFF
---
It is possible to have a company restored onto the Register of Companies through a process called Administrative Restoration.

ASPECTS OF VALUATION
LOSS OF THE GROUND RENT

Paying ahead can make considerable savings over time as rent is capitalised to calculate a value today

The statutory route reduces ground rent to nil whilst the voluntary route provides flexibility but risks

The yields we negotiate can affect the amount payable 75 year lease with a ground rent of £300pa for 9 years then doubling for following 33 years and doubling again for the last 33 years
Illustration only
Pay £62,100 ground rent over remaining lease term
OPTION 2 - Statutory
lease extension
Payment of £8,572 with rent reduced to £nil
---
Under a voluntary lease extension, negotiate something different

ASPECTS OF VALUATION
Loss to the landlord of no longer receiving the flat back
---

Calculations of how much the market would pay now to have a valuable asset at a future date

The yields we negotiate can affect the amount payable
--- 75 year lease on a property with a hypothetical long lease value of £350,000
Illustration only
Estimated reversion value based on common assumptions
Waiting just 5 years increases the costs
A 0.5% reduction in the yield increases the costs

ASPECTS OF VALUATION
Share of Increase in value
from altering from a short to a long lease
"So we have the General Theory of Relativity, the Special Theory of Relativity and Relativity in leasehold valuations.
By Comparison the first two are easier to understand.
It should not be so."
(Ian Newberry - Law Gazette)

With little transactional short lease evidence, graphs of relativity are often used to estimate the relationship in value between short and long lease/freehold values

Different graphs of relativity provide different premiums due. Part of Websters Surveyors expertise is in seeking market evidence or choosing which graph is appropriate for the area and property, what can be negotiated and what further adjustments are warranted

When a lease falls to 80 years or below, the difference in value between a short lease and a long lease is shared 50-50 between leaseholder and Landlord. At above 80 years the Landlord receives no marriage value A property with a hypothetical long leasehold value of £350,000 with no ground rent payable
Marriage value does not apply
Depending on graph selection, Marriage value could be:
Depending on graph selection, Marriage value could be:
WEBSTERS SURVEYORS CAN ALSO ADVISE ON A NUMBER OF OTHER FACTORS

Statute law requires that improvements are disregarded in determining elements of Market Value. There is often a negotiation over the extent of what is to be disregarded.
TRIBUNAL DECISIONS REVIEW

Statute law requires that improvements are disregarded in determining elements of Market Value. There is often a negotiation over the extent of what is to be disregarded.

Ground rent clauses impact on the premium payable. Unconsented alterations can be used as leverage in negotiation with documentation often cleared up afterwards.
---

The leaseholder is responsible for the landlords reasonable valuation (not negotiation) and legal fees to effect the transaction. Both sides will consider the impact on fees as negotiation draws towards a close.
If agreement cannot be reached, there is a right to a binding third party determination by the First Tier Tribunal. However, although applications are common, a full hearing is rarely required as the system is designed to bring the two sides to a compromise agreement. As part of this, the two Surveyors must exchange calculations and nearer the hearing date, a Statement of Agreed Facts and disputed matters. Once applications are made, the Surveyors on both sides then have a duty of care to the Tribunal so can no longer take negotiating positions.
We shall only recommend going to the Tribunal when we think its the right thing to do, including considering the cost implications as well as likelihood of success.
Whilst Valuation can be complex, you shouldn't need to be a Chartered Surveyor to understand our advice. At Websters Surveyors, we try to remove Jargon, using plain English wherever possible. If something still isn't fully understood, our team of Chartered Surveyors and support staff are on the end of a phone, happy to help.
---
---
At Websters our Chartered Surveyors (who are also RICS registered valuers) have the necessary knowledge and expertise to carry out surveys across London and the South East.
We endeavour to provide valuation advice in compliance with the RICS Valuation – Global Standards, also referred to as the RICS 'Red Book'. This document sets out the gold standard for undertaking valuations through a quality assured process, so you can have confidence that consistency, objectivity, transparency and a high standard of service is maintained.
Feel free to get in touch to chat through your options
---
---