---
Buying at auction the sensible way
---
---
---
When it comes to buying a property at Auction it is highly recommended to get Survey done prior to making any bid on auction day. This is because forewarned is forearmed. There are lots of bargains to be had at auction but it is not for the faint hearted. Once the hammer goes down, you're typically required to pay a deposit. It's then too late to back out unless you're content with probably losing the money you've already put down.
Properties may go to auction for a variety of reasons. Sometimes it's as simple as something like a public body who are selling wanting the accountability of an auction. There may be nothing wrong with the property. On other occasions, it may be clear that properties need a lot of work done on them or at a higher risk, there may be problems that an un-trained eye wouldn't necessarily spot which has prevented a more traditional sale already happening.
---
---
---
Buying at auction is a high risk, high reward strategy. With one of our Home Surveys (Level 1 Condition report, Level 2 Homebuyer report or Level 3 Building Survey – formerly known as Structural Survey), you would at least be mitigating that risk. A Market Valuation can also be added to help you determine how much it is sensible to bid up to.
Auction houses typically publish their catalogues about a month in advance and within the 2-3 weeks leading up to the sale they usually arrange viewing for potential buyers to view the property and carry out surveys. If you have seen a property you like and are unsure about the structure or condition we can help you decide.
---
---
---
---
We provide the following Home Surveys:
---
---
Level 1
This survey is aimed at conventional built properties and newer homes and will describe the condition of the property, highlight any urgent defects and identify any potential legal issues.
Level 2
This survey includes all the features of the Level 1 surveys and is suitable for conventional properties which are found to be in a satisfactory condition. It also includes advice on defects that may affect the property with repairs, and ongoing maintenance advice
Level 3
This survey is recommend for older properties or properties in disrepair. The report is comprehensive and includes all the feature of level 1 & 2 and provides an in-depth analysis of the property's condition and includes advice on defects, repairs and maintenance options.
---
---
If you are unsure as which surveys is appropriate or would like further information please feel free to get in touch with us.
Check out our at a glance summary of what is included in each Survey type:
---
---
---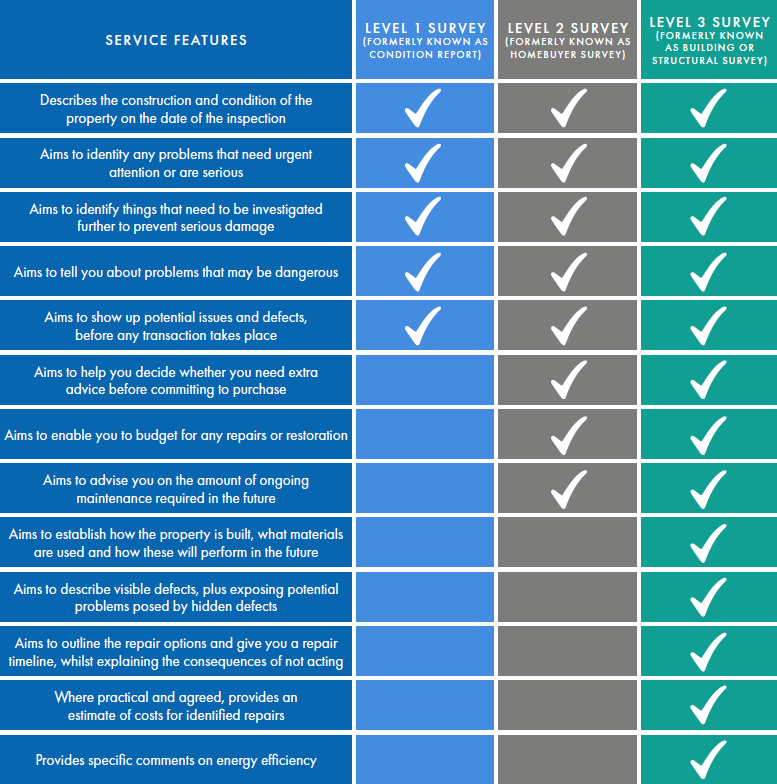 ---
---
---
Once instructed to carry out a Valuation, we are normally able to provide our report within a week and can often, if necessary meet tighter deadlines where required.
At Websters, we are Chartered Surveyors, regulated by the Royal Institution of Chartered Surveyors. Our services span most of London and some surrounding areas including Hertfordshire, Buckinghamshire, Essex and parts of Surrey and Sussex.
Please contact us if you would like to discuss your requirements on 020 8017 1943.
---
---